Jacksonville Window Cleaning Will Have Your Glass Sparkling Like New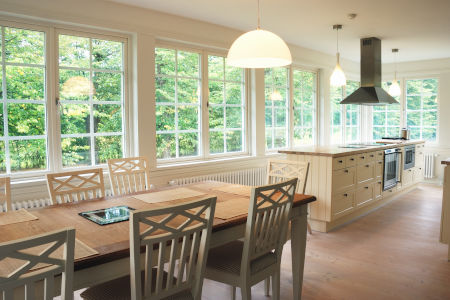 Professional window cleaning is one of the most effective methods to make your Jacksonville property truly shine. We at 904 Power Washing provide a window cleaning service that will leave you speechless.
Curb appeal is beneficial to both homeowners and business owners. Improved curb appeal not only means a better judgment from your neighbors, but it also implies a higher property appraisal, up to 7%, according to some studies. Curb attractiveness is more important to company owners. A poor exterior look might turn off potential customers and make current customers unwilling to continue doing business with you.
You have a satisfaction guarantee that comes standard with expert services at 904 Power Washing, so you know there is no danger in selecting us for your window cleaning job.
Brighten Up Your Property With Professional Exterior Glass Cleaning
While the procedure of window cleaning appears to be simple, it is actually a rather sophisticated operation. Before they begin work, our window washers must evaluate a number of factors. Window cleaning procedures, for example, will change depending on whether the frame is aluminum or wood, the age of the window, and if it is divided into smaller panels inside a larger window. Each variable can alter the pressure level, detergents or chemicals utilized, and even the spray angle.
However, the window washers at 904 Power Washing know how to tackle every last detail. Our professional crew will make your windows seem brand new right in front of your eyes. Our clients often remark on how effective a window cleaning service is in increasing the attractiveness of their home. In addition to a satisfaction guarantee on your results, our window cleaning service is exceptional from the minute you contact us and make your first appointment to the day we service your Jacksonville property.
Expert Window Washing For Complete Property Maintenance Made Easy
Improving the appearance and value of your house is a cornerstone of the dream of home ownership. A homeowner's property demonstrates hard work, perseverance, and expertise as the constructions survive the test of time and become the envy and talk of the town. One of the most essential (and easy!) ways to achieve this goal is to have your property cleaned on a regular basis by a respectable pressure washing business like 904 Power Washing. Our services, such as window cleaning and roof cleaning, are designed to save you time in maintaining and beautifying your home, allowing you to spend more time with your family.
Ready to Enhance Your Curb Appeal?
Hire the Jacksonville Pressure Washing Team You Can Trust!