Jacksonville Dumpster Pad Cleaning Professionals Get The Job Done Right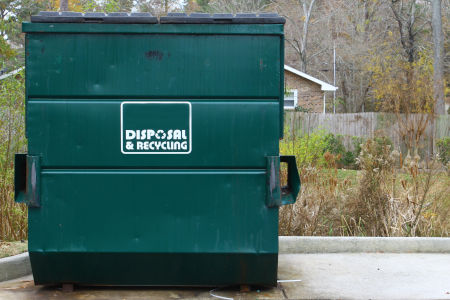 You can be confident that your property is in the best and most skilled hands when you use 904 Power Washing's dumpster pad cleaning service. We try to keep our clients delighted as Jacksonville's number one pressure washing business. We accomplish this through our years of knowledge, cutting-edge technology, and industry-leading practices. We combine all of this with low prices and exceptional customer service.
We approach each job with the same care and attention that we would provide our personal property, so you can absolutely expect the greatest results from our service. 904 Power Washing is your one-stop shop for commercial pressure washing services. From building washing to dumpster pad cleaning, we get the job done right the first time.
Dumpster Area Washing For Businesses & Commercial Properties
Dumpsters and trash pads often seem to be perpetually filthy, but sanitizing them on a frequent basis is in your best interests. Allowing them to accumulate filth, grime, and harmful chemicals is a sure way to jeopardize them. This is particularly true for companies in the food and healthcare industries.
Dumpsters in the food business are frequently exposed to grease, food, and packing materials. While packing materials are dangerous, food and grease may provide slipping risks and attract animals. Dumpsters in the healthcare business generally include old cleaning supplies and potentially biologically hazardous waste.
It is critical to plan extremely regular pressure washing services with 904 Power Washing for these trash pads in particular. Contact 904-234-8338 now to book your Jacksonville dumpster pad cleaning.
Dumpster Area Sanitation Professionals To Maintain Your Business
In addition to obvious cleaning services, such as storefront cleaning, dumpster pad cleaning is a crucial element of running a business. Allowing your Jacksonville dumpster pad to become unclean over time might endanger your health and the health of your staff. That is not only upsetting to consider, but it may also lead to legal action.
With 904 Power Washing's dumpster pad cleaning services, you can protect yourself, your property, and your employees. You can anticipate nothing but the greatest service and labor from us, as well as fair costs. Using our services ensures that your outdoor surfaces are immaculate and protected against biological growths such as algae and man-made pollutants such as grease. Pressure washing is an innovative and efficient technique of sterilizing and cleaning even the dirtiest and most obstinate external surfaces.
Call 904-234-8338 now to talk with a polite and understanding representative about your pressure washing problems and objectives.
Ready to Enhance Your Curb Appeal?
Hire the Jacksonville Pressure Washing Team You Can Trust!